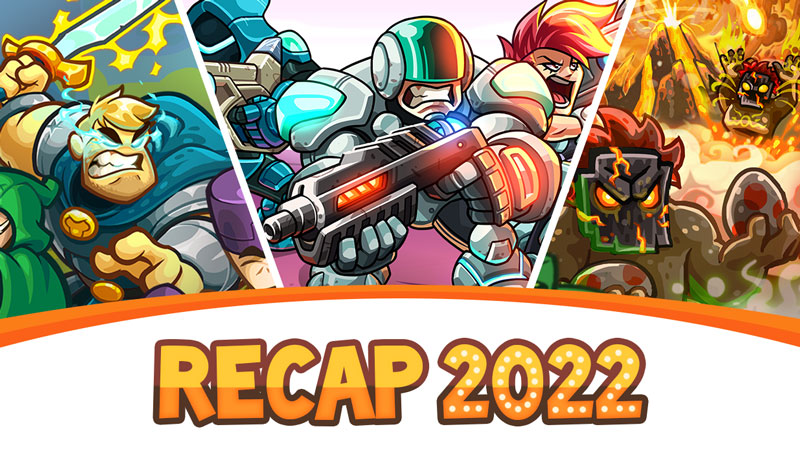 2022 has been quite a ride!!

At Ironhide, we wanted to say thanks to our amazing fans for their unconditional support, as we take the chance to remember the epic journey we shared together.

Our big first achievement occurred when Legends of Kingdom Rush hit Steam in July, offering PC players the chance to explore and fight for our magical kingdom with a RPG styled approach, and intense turn-based battles.

Following up, Iron Marines Invasion, the follow up to our space RTS adventure, was released on Mobile in September, having the chance to even be premiered at the Gamespot Swipe Mobile Showcase.

The challenging galactic odyssey took off with new colorful worlds, unique heroes, original unit groups and exciting strategic missions to discover.
And that's not all - its first update has officially landed in stores this December!

A couple of weeks deeper into September, the Dark Lord decided to take his revenge even further, as Kingdom Rush's Vengeance new update, Primal Ravage, stomped into the scene.

Ancient, mythological creatures and enemies took the realm as their battle playground, and Vez answered the way he knew best: with a fierce battle!

Despite the fact that the year is coming to an end, we keep working on giving you thrilling news.
Though we still can't tell you much about it, we would recommend you to keep your seatbelt on: if 2022 was a thrilling ride, prepare for what's coming in 2023...

We wish you great holidays, a great new year, and thank you all for still being part of our fun, amazing journey.

The best is yet to come!!
Cheers!