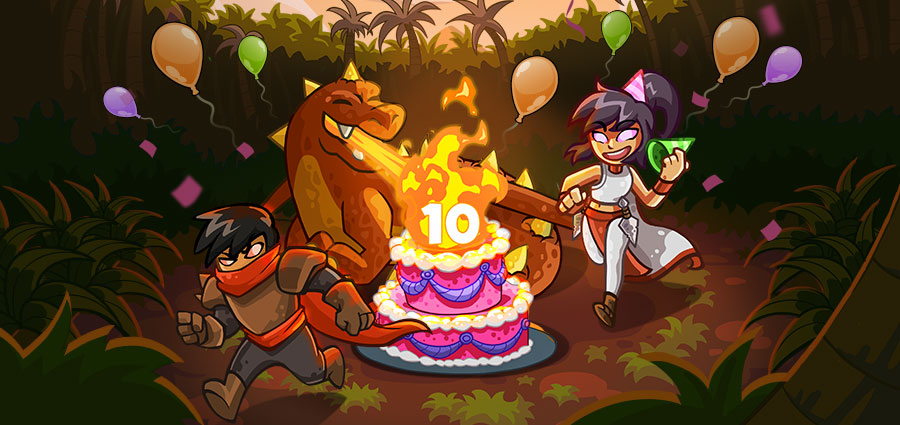 It's hard to believe a whole decade has passed since the release of the first sequel to Kingdom Rush. On June 5th, 2013, we asked you to come along with us on an epic adventure and now, as we celebrate this milestone, we reflect on the incredible journey we've embarked on together.
The battle against evil often feels like slashing the heads of a Hydra. Cut one down, and two more sprout up in its place. As such, once the formidable Vez'nan was vanquished, a new darkness surfaced, threatening to engulf the Kingdom in its malevolence. Determined to shield the land from its shadows, you led the troops through treacherous deserts, dense jungles, and even subterranean dragon lairs.
Kingdom Rush Frontiers, often described as addictive and brutally difficult (yet profoundly satisfying), quickly captured the hearts of countless fans worldwide. While we always aimed to create something extraordinary as a sequel to Kingdom Rush, the overwhelming success that Frontiers achieved surpassed even our wildest expectations.
This remarkable journey has been made possible by the unwavering support of our community. We are forever grateful for your dedication and enthusiasm. From the depths of our hearts, we extend our deepest thanks to each and every one of you who continue to play and profess your love for Frontiers.
With your continued trust and support, we will continue to explore new Frontiers together (sorry guys, we just had to). Here's to a decade of unforgettable memories and to many more adventures on the horizon.
Let's keep on rushing!