It's Iron Marines' first birthday and we are extremely happy to be sharing it with you!
We are about to launch our small but mighty merch store but before that you have the chance of winning two of this amazing new t-shirts before anyone else!
To participate you need to comment on the raffle's post on Facebook or on Instagram. You can also retweet the raffle's post on Twitter!
Make sure to check out the terms and conditions underneath!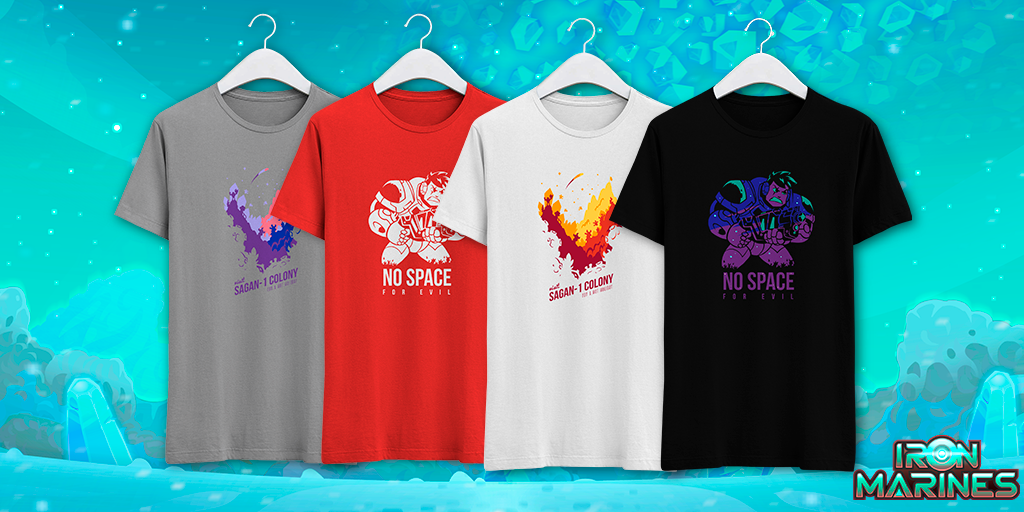 Terms and conditions
Prize details:
2 Iron Marines official t-shirts to be chosen by the winners once the raffle is made.
Raffle instructions
The participants must comment the Facebook, Twitter or Instagram post telling which game stage they like the most.

The raffle begins on 9/15/2018 12 pm PST and ends on 9/16/2018 12pm PST.

On September 17th of 2018 at 12 pm PST the contests winners will be announced and contacted shortly after.

The raffle will be made on Monday 17, September 2018.

The raffle consists on 5 winners: 2 for Facebook, 2 for Twitter and 1 for Instagram. The 5 winners will be picked at the same time on video (all of them will win 2 t-shirts).

Ironhide covers the total cost of the goods, purchase taxes and shipping. However, in case the winners' country customs office has special costs once the goods arrive to its destination, we are excent of paying them due to legal difficulties.

The winners' must choose the t-shirts colors considering Amazon's color availability. In case the color chosen isn't available the winner must pick a different one.

The t-shirts will be send as soon as possible in a time frame of one month since the raffle date.
Prize eligibility
Participants and winners must be over 18 years old and living on a country available for Amazon shipping services.
Raffle starts
September 15, 2018 at 12 pm PST
Raffle ends
September 16, 2018 at 12 pm PST